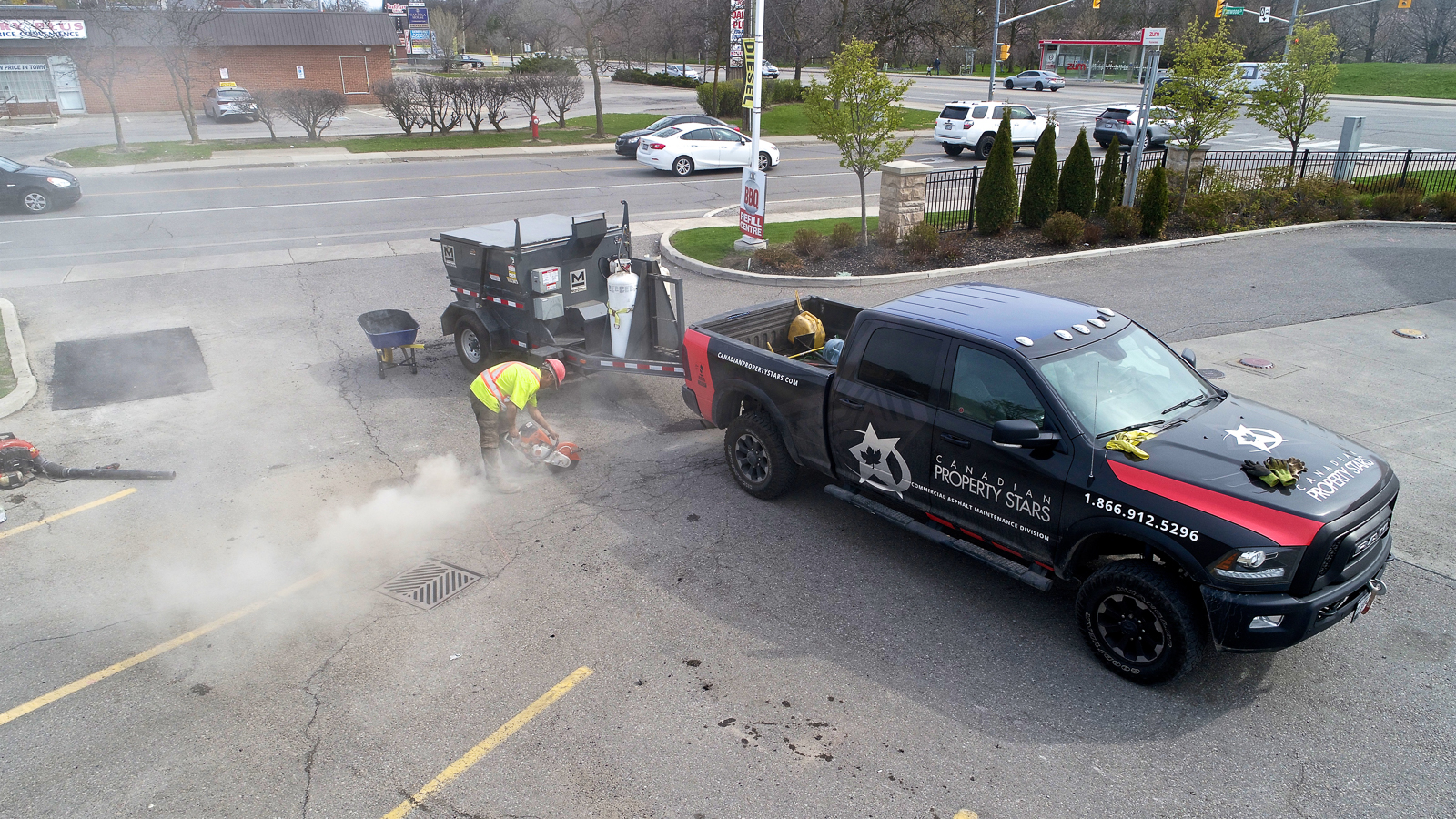 Crack Routing and Sealing
Offering Crack Routing and Crack Sealing All Over Southern Ontario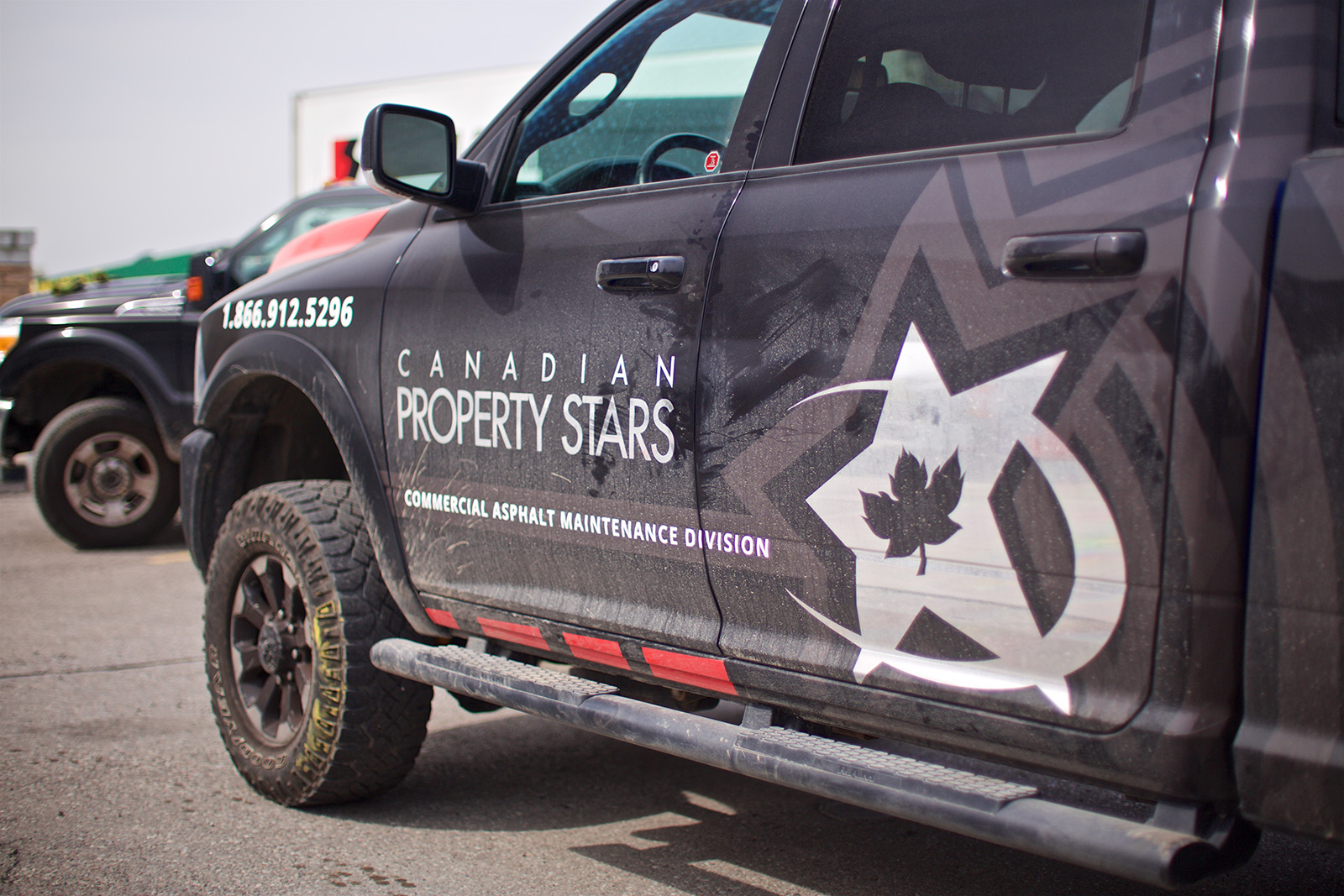 Offering Crack Routing and Crack Sealing All Over Southern Ontario
Crack Routing and Crack Sealing Service
Every asphalt surface from small residential driveways to large industrial warehouse yards is prone to crack formation over the course of its lifespan. Once the asphalt has cracked, it is susceptible to further deterioration as the base of the structure is exposed to water penetration. The asphalt crack must be addressed before further cracking and heaving occurs and becomes a much larger and more expensive issue. The most effective way to address asphalt cracking is to have the crack routed and to carry out a crack sealing process. Canadian Property Stars Crack Sealing service uses hot liquified rubber to fill the routed reservoir. This rubber binds to the walls of the asphalt crack and creates a water-tight seal. Once the asphalt crack sealing process is completed, the rubber will cure within fifteen minutes and the surface is open for traffic again. Crack routing and Crack Sealing is the most cost effective and efficient service to prolonging the lifespan of your asphalt surface. Click the button to obtain your FREE QUOTE for your crack sealing service this season!
Unrouted Crack vs Crack Rout and Seal
Having the cracks routed prior to crack sealing is an important step in the asphalt maintenance process. Without routing, there is not a large enough reservoir to hold the liquid crack sealant needed to bind the asphalt joint. The asphalt will move and, without the required amount of crack sealant, the crack will re-open. When the crack is routed and then crack sealing is performed, it creates a large, even reservoir exposing the entirety of the crack.
Crack Sealing Customers
Canadian Property Stars has completed Crack Sealing projects for many different property types. Commercial retail properties, private roadways, city contracts and real estate development firms are just some of the projects we have completed. All asphalt surfaces are prone to cracking and, in order to maintain the asphalt and prolong its lifespan, the cracks need to be routed and crack sealing must be performed. Our well equipped and large staffed operation allows us to take on crack sealing projects of all sizes. Many property management firms come to Canadian Property Stars to ensure that their properties have their crack sealing completed as soon as new cracks form. Leaving asphalt cracks unattended can lead to further and more expensive repair projects in the future. Having the cracks sealed prevents water from entering the asphalt and washing away the base. Take a look at some of the clients we've had the pleasure of servicing over our +25 years of providing asphalt maintenance and crack sealing services throughout Ontario.
"I called Canadian Asphalt Maintenance after I saw an ad in the Ancaster Newspaper and decided to try them out as I had another company a few years back that did a terrible job on our driveway. David came out at the time we agreed on and mentioned that we needed sealer & crack repairs, he gave us a date & time that he would be here and he was on time, there were a couple of spots that needed attention the next day & he came back to fix it which in these days is a rare occurrence. I am very happy with the results of his work and his pricing and would recommend him to anyone that needs repair work done on their driveways. "

Dave Crease

Canadian Property Stars customer

"I don't usually bother writing reviews but I had to share my positive experience here. Beautiful job, even 3 days later the driveway is black and shiny and looks like it's made of rubber. I was worried when it rained on the same night they did the work and through the next day, but they use a special product that isn't affected by moisture, so there's no need to wait for a drought anymore to get your driveway done! They also took time to clean the driveway, tape the edges, and sprayed the product on instead of slopping it around with a brush. And all these professional touches came at a price lower than what the door-to-door solicitors are offering when they're "in the area". So don't take a chance with your curb appeal, call these guys and get a perfect outcome at a low price!"

Mystery Weekly

Canadian Property Stars customer

"David and his crew are great at what they do! On time, finished the job as requested and got back to me very quickly with a competitive price. I will be using them again! Thank you David"

Klan You

Canadian Property Stars customer

"David and his crew are great! I wouldn't trust my driveway maintenance to anyone else. My driveway looks terrific — they use a first-rate product that lasts. I love how they take extra care to make sure that no overspray lands anywhere other than on the driveway (unlike other driveway maintenance companies)! They are meticulous, professional, and very pleasant guys. 5 stars well-deserved! "

Carol Shetland

Canadian Property Stars customer

"I've been using Canadian Asphalt Maintenance for the yearly repairs and maintenance. We have used them for asphalt repairs, line repainting, sealing, repaving, and general maintenance. As a courtesy, they even came a couple days earlier than scheduled this year to clean up any rocks or weeds on the property. And even after the job was done, they came back to see if anything was missed and made sure to address it. They always respond to calls and emails, and worked around my business hours. They worked over night and set up their own lighting, in order to not interrupt my business. Highly recommend them. Honest and great service, and extremely competitive pricing."

Ray Toma

Canadian Property Stars customer

"We had Canadian Asphalt Maintenance seal our driveway in Etobicoke May 2021. They are the best, responsive, courteous, a pleasure to deal with. We highly recommend them for any driveway repair or maintenance."

Sir Glenn

Canadian Property Stars customer

"Great price & came back to fix any discrepancies promptly. The job was done professionally and looks great."

Rudy Peternelj

Canadian Property Stars customer

"Quick, accurate and cost-effective. Canadian Asphalt Maintenance completed my driveway sealing promptly and professionally with absolutely no over-spray onto my pavers which line the driveway. They were a pleasure to deal with and my driveway now looks fantastic!"

Sandy Nairn

Canadian Property Stars customer

"David did an excellent job. Brought our driveway back to life! Looks great. Thank you."

Ryan Love

Canadian Property Stars customer